Potter's Lounge & Restaurant
Named after our first Mayor, Mayor Allen Potter, Potter's Lounge & Restaurant in Kalamazoo offers fun food in an upscale pub atmosphere. Sample some of our specialty cocktails highlighting the Michigan blueberry, such as our blueberry caprihana, the blueberry basilito, or the blueberry mojito with rum and basil. We're also known for our local craft beers.
Our Kalamazoo restaurant features unique stuffed burgers filled with BBQ pulled pork, Chili, or a Michigan favorite - olives and pepper jack cheese with a fried lake perch from the Great Lakes. Save room for our Michigan blueberry cobbler and locally made ice cream. Enjoy an extensive selection of sports channels so you can watch your favorite teams as you dine. Whether you're meeting a business colleague or just out for the evening with the family, Potter's has a little something for everyone. Potter's Restaurant serves breakfast and dinner daily.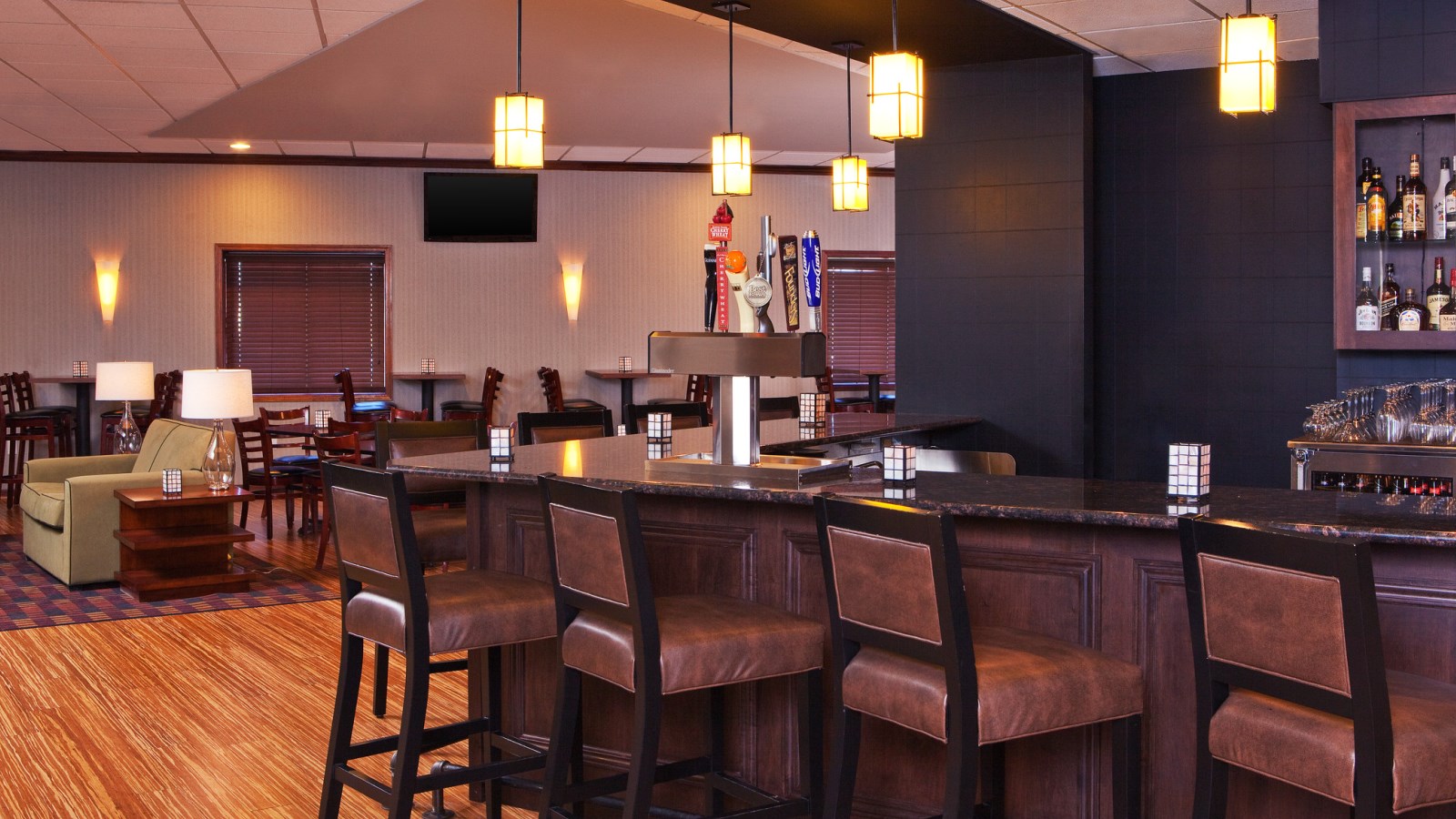 Hours
Breakfast: 6 - 10 AM
Dinner: 5 - 10 PM Dining | 4 - 11 PM Lounge
Room Service
Enjoy our delicious restaurant fare from the privacy and comfort of your room. The room service menu offers the best from our kitchen and serves it to you fresh, hot, and in no time at all.
Live Music Schedule
Join us for a live performance right here at Four Points Kalamazoo every Wednesday from 5:30 - 8 PM and Friday - Saturday from 7 - 10 PM.
Wednesday, November 1: 5:30 - 8:30 PM
John Persico
Friday, November 3: 7 - 10 PM
Marci Linn & Friends
Saturday, November 4: 7 - 10 PM
"Serendipity" - Grace Anne Kalafut & Linda Havens
Wednesday, November 8: 5:30 - 8:30 PM
Neil Harding & Lisa Mallwitz
Friday, November 10: 7 - 10 PM
Kit Leblanc & Paul Freeburn
Saturday, November 11: 7 - 10 PM
Big Boss Blues Trio
Wednesday, November 15: 5:30 - 8:30 PM
Amays & Blues - Alex Mays & Eddie Lester
Friday, November 17: 7 - 10 PM
Kathy Ford & Bill Fuller
Saturday, November 18: 7 - 10 PM
Greg Nagy & David Uricek
Wednesday, November 22: 5:30 - 8:30 PM
Ian Stewart
No music - Friday, November 24 - Saturday, November 25
Saturday, November 29: 7 - 10 PM
Jimmie Stagger & Vincent Hayes